Shelves- Wall Decor Ideas
Shelves are a versatile and functional decor item that can be used to add both storage and style to your home. Shelves can be a great way to showcase your favorite objects, create a focal point, or simply add extra storage to a room. In this article, we'll look at some unique ways to use shelves as wall decor, as well as tips for selecting the best shelves for your space.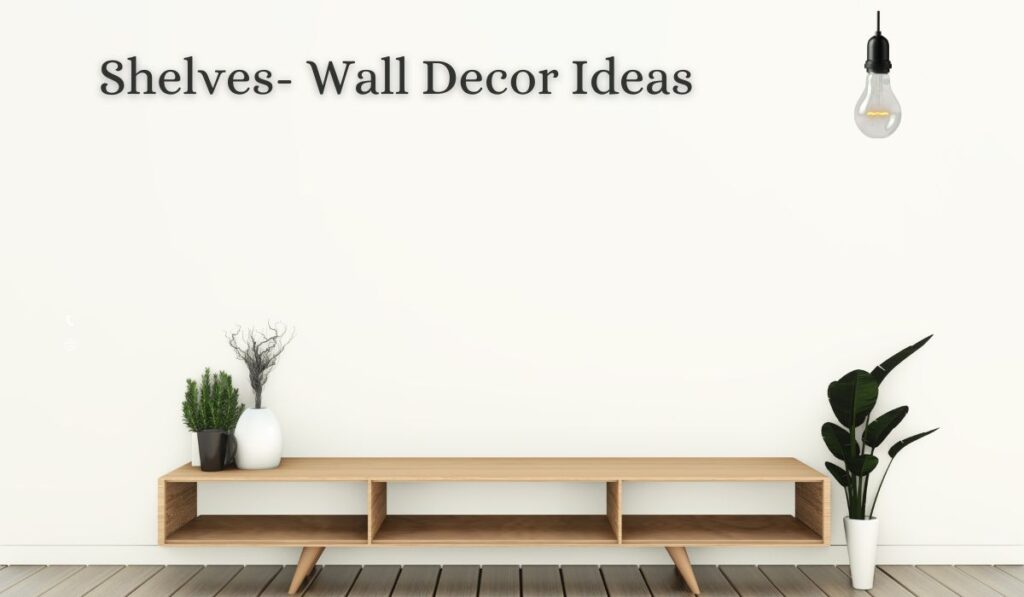 Make a Gallery Wall Using Shelves
Consider using shelves to create a gallery wall to create a stunning focal point on a blank wall. Start by selecting a variety of framed art, photographs, and other decorative items that you want to display. Then, select shelves that complement your decor's style and arrange your items on the shelves to create an eye-catching display. This approach is great for adding visual interest and texture to a room, and it allows you to easily switch out items to keep your display fresh and interesting.
Use Shelves to Display Books
If you're an avid reader, consider using shelves to display your book collection. This approach is a great way to create a cozy and inviting atmosphere in your home, and it can also provide additional storage space. Choose shelves that can withstand the weight of your books, and consider organizing them by color or subject to create an organized and visually appealing display.
Shelves can be added to a nook or alcove
Consider adding shelves to a small nook or alcove in your home that isn't being used to create a functional and stylish display. This approach works well in small spaces, as it provides a place to store and showcase your favorite items without taking up too much room. Choose shelves that are the right size for your space, and think about adding lighting to highlight your display.
Display Plants on Shelves
If you like plants, consider making a living wall display out of shelves. Choose shelves that can hold the weight of your plants, and arrange them in a way that creates a natural and organic look. This method is ideal for adding a touch of greenery to your home while also purifying the air and improving the overall ambiance.
Create a Multi-Purpose Display with Shelves
Consider using shelves to create a multi-purpose display if you want to create a versatile display that can serve multiple functions. Select shelves that can accommodate a wide range of objects, such as books, art, plants, and decorative items. Then, use your display to highlight your favorite items, add extra storage, and create a visually appealing focal point in your home.
Finally, shelves add style and function to any wall decor. They come in many styles, materials, and sizes, making it easy to find shelves that match your home's decor and storage needs. Consider materials, weight, and installation when choosing wall shelves. The size and design of your shelves may depend on the items you display. With the right shelves, you can create a beautiful and functional wall display that enhances your home and displays your favorite items. Wall shelves can be bookshelves, floating shelves, or a combination of both.