10 Tips for Creative Wall Storage in Small Spaces
A great way to give your home more personality and style is to hang up some artwork on the walls. On the other hand, determining the appropriate placement, height, and arrangement for your artwork can be an extremely challenging task. The goal of this comprehensive guide to hanging wall art is to make the process simpler and more enjoyable for you by providing you with helpful hints and advice.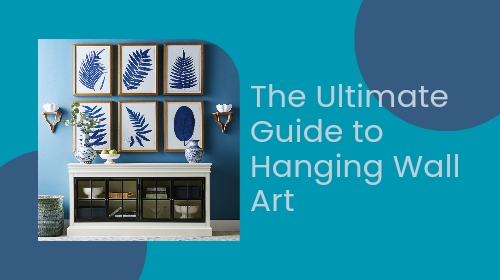 Make a plan for the positioning
It is important to plan the positioning of your artwork before you begin hanging it on the wall. Think about the dimensions and aesthetic of the piece of artwork you want to hang, as well as the available wall space and the arrangement of the furniture in the room. You want to achieve an appearance that is harmonious and well-balanced, and one that goes well with the rest of your decor.
Establish the height of the object
The effect that the artwork has on the space is strongly influenced by the height at which it is hung. It is recommended that artwork be hung at eye level, which is typically approximately 57 inches from the floor. This is a general rule of thumb. This, however, can change depending on the height of your ceiling as well as the size of the artwork you want to hang.
Ensure You Have the Appropriate Hardware
Selecting the appropriate hardware is essential in order to guarantee that your artwork will remain safely hung where it is displayed. Take into account the weight of your piece of artwork before selecting a hook or anchor that is capable of supporting both its size and weight.
Construct a Gallery Wall
Multiple works of art can be presented in a unified manner on a gallery wall, which is a popular method of display. Select artwork that shares a similar color scheme, subject matter, or frame in order to achieve a unified aesthetic. Before settling on a definitive placement, try out a few different configurations to see what works best.
Combine and Contrast Different Styles
It is important to not be afraid to combine a variety of artistic styles in order to achieve a look that is original and eclectic. You can achieve a sense of depth and dimension by decorating your walls with a combination of paintings, prints, and photographs.
Experiment with the Scale
Adding visual interest to your walls by experimenting with scale is a great way to do so. If you want to create a dynamic and attention-grabbing display, try combining smaller pieces with larger ones of the same type.
Give Thought to the Lighting
The way your artwork is lit can have a significant effect on how it is perceived. When selecting artwork for a space, it is important to take into account both the natural and artificial lighting present.
Play around with different placements
You shouldn't be afraid to try out a variety of different positions and configurations until you find the one that works best for you. You can achieve the look you want by shuffling your artwork around and trying different groupings until you get it right.
Use Frames
There are times when the artwork's frame is just as important as the artwork itself. Pick picture frames with a style that goes well with the artwork you plan to hang in them.
Display Artwork in Unexpected Locations
Consider hanging artwork in non-traditional areas of your home, such as the toilet or the kitchen, to add a sense of originality and adventure. This can lend your home an air of unexpected enchantment as well as personality.
In conclusion, affixing wall art to the walls of your home is an enjoyable and inventive way to express your individual sense of style as well as to add interest to the space. You can create a cohesive and stylish display that complements your décor and showcases your favorite artwork by following these tips and tricks and putting them into practice.