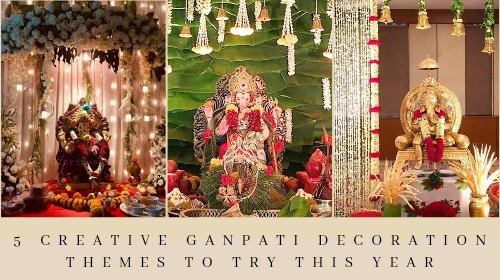 5 Creative Ganpati Decoration Themes – One of the most important festivals in India, Ganesh Chaturthi is a celebration of the birth of Lord Ganesha and is known as the Festival of Lights. People gather in their communities to celebrate during this time of year, which is characterized by high levels of joy and merriment. 
The adornment of the Ganpati idol and the area around it is one of the aspects of the festival that is considered to be of the utmost significance. If you are looking for some ideas to decorate your Ganpati for this year, here are five different creative approaches that you could take.
5 Creative Ganpati Decoration Themes for a Memorable Celebration
Decorations with Floral Arrangements
Flowers play an important role in Indian culture and are incorporated into many different types of celebrations, such as weddings and religious festivals. Why not utilize them as part of the decoration for your Ganpati as well? You can create a stunning and lively floral decoration all around the idol by using a variety of fresh flowers, such as marigolds, roses, and jasmine.
Decorations That Are Kind to the Environment
The use of Ganpati decorations that are kind to the environment is becoming increasingly popular as an increasing number of people are becoming environmentally conscious. You can give your Ganpati a one-of-a-kind look by fashioning one-of-a-kind decorations out of recycled materials like paper and cardboard. You can also create a rustic and earthy decoration by making use of natural materials such as clay, leaves, and twigs in your craft projects.
Decorations with a Bollywood Theme
Since Bollywood is such an important part of Indian culture, many people enjoy finding ways to incorporate it into the festivities that they are planning. You can give your Ganpati an embellishment with a Bollywood theme by using glitter, bright colors, and other glitzy embellishments to create the decoration. You can also make the celebrations even more fun and enjoyable by dancing to Bollywood music and playing Bollywood music during the festivities.
Traditional Decorations
If you want to keep things straightforward and traditional, you can choose to adorn your Ganpati with traditional Indian ornaments such as rangolis, torans, and diyas. This is one option for decorating your Ganpati. You can adorn the area around the idol with bright and colorful fabrics, and you can use traditional flowers like marigolds and lotuses to add a touch of beauty and fragrance.
Decorations with a Beach Theme
If you want to do something different this year, one option you have is to go with a Ganpati decoration that has a beach theme. You can create a one-of-a-kind and entertaining decoration for the area around the idol by using beach umbrellas, sand, and seashells. You can also keep the celebration going by playing beach-themed games and listening to music with a similar vibe.
In conclusion, these are just a few suggestions for how you can decorate your Ganpati. The possibilities are virtually limitless, and all you need is a little bit of imagination and creative thinking to come up with an idea that is one of a kind and fascinating. The most important thing is to make the most of the celebration by laughing and having a good time with your loved ones. Ganpati Bappa Morya!