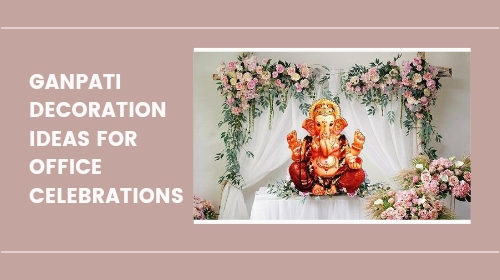 Ganpati Decoration Ideas for Office – Ganesh Chaturthi is a festival that is celebrated in a lot of different parts of India with a lot of enthusiasm and a lot of joy. Ganesh Chaturthi is a festival that is observed primarily at people's homes.
However, many workplaces also participate in the festivities by decking out the office with decorations and bringing in a statue of Ganpati. In this piece, we will go over some Ganpati decoration ideas for office celebrations that you can use to help create a merry and upbeat environment at your place of business. These ideas can be of great assistance to you.
Explore 6 Creative Ganpati Decoration Ideas for Office Celebrations
Keep Things Straightforward 
When it comes to decorating the office for the festival of Ganpati, less is more. Flowers, rangoli, and torans are some examples of traditional decorations that should be used to create an understated yet elegant atmosphere.
Create a focal point
You can make a focal point by putting the idol of Ganpati in a prominent location in the office. This will allow you to draw attention to it. Not only will this garner attention, but it will also usher in an upbeat and joyous spirit.
Add Some Color
If you want to add some color to the office, you can do so by using flowers and decorations in vibrant colors. This will help to boost morale in the workplace by contributing to the creation of a happy and cheerful atmosphere.
Participation Should Be Encouraged 
Participation should be encouraged in the Ganesh Chaturthi celebrations by organizing activities such as rangoli contests and art and craft sessions. The employees will have a greater opportunity to feel involved and part of a community as a result of this.
Create an Eco-Friendly Version 
If you want to create an eco-friendly version of the Ganpati decoration, you can use eco-friendly materials like clay or paper. This will not only be beneficial for the health of the environment, but it will also help your company project a positive image.
Include a Social Cause 
As part of your Ganesh Chaturthi celebrations, consider making a contribution to a charitable organization or hosting a fund-raising event for a good cause. Not only will this have a beneficial effect on the community as a whole, but it will also help to cultivate a sense of community and goodwill among the workforce.
In conclusion, celebrating Ganesh Chaturthi in the workplace can be an excellent way to create a joyous and upbeat environment and to cultivate a sense of community among the staff members. You can make the Ganpati decoration in the office a success and create a lasting impact on both your employees and society if you keep the decorations simple, create a focal point, add some color, encourage participation, make it environmentally friendly, and include a social cause.