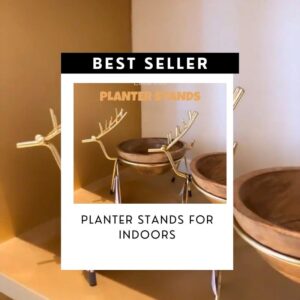 Upgrade your home decor with one of our beautiful Planter stands for indoors! We offer a range of stands suitable for any budget, indoors and outdoors.
Upgrade your home decor with a stunning planter stand! Choose from elegant designs to suit any aesthetic, and add a beautiful touch of style and sophistication to your living space.
Here's how to choose the Right Planter Stands for Indoors
Choosing the right planter stand for you is important to ensure it fits your space and decor perfectly. Start by considering where it will be placed and what type of plants or flowers it will hold – this can help determine the size, materials, and design of the stand. Think also about how much weight the stand needs to carry, and consider if any additional accessories are needed, such as a trellis or basket for trailing plants. Then choose a style that complements your existing home decor for maximum impact.
Explore some of our Designer Planter Stands for Indoors and Premium Metal Flower Pots
After comparing Sajosamaan product's prices on other Online Home Decor Websites, You will definitely notice that our Product prices are much lesser than their products