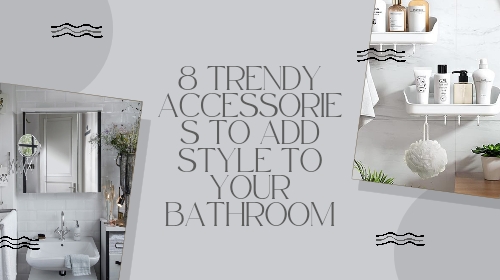 This guide offers everything you need to create a spa-like paradise in your own home, from stylish shower curtains to chic soap dispensers.
8 Trendy Accessories to Add Style and to Enhance your bathroom décor that are both fashionable and practical.
Introduction:
Your bathroom is more than a utilitarian environment. It is a place for unwinding, relaxation, and self-care. And, just like the rest of your residence, it should look its best. Whether you choose to completely renovate your bathroom or simply add a few finishing touches, we have you covered. In this post, we will discuss eight modern bathroom accessories that will add style and make the space more comfortable and delightful.
Modern Shower Curtains:

 A new shower curtain is one of the easiest ways to modernize your bathroom.
 Sleek, contemporary design can instantly change a place and give it a new appearance.
Look for shower curtains with distinct designs, vibrant hues, or interesting textures to bring character to your bathroom.

Stylish Soap Containers:

The days of plastic soap dispensers are over, and stylish alternatives have taken their place.
There are currently a variety of solutions available that will add a touch of elegance to your bathroom.
Choose glass or ceramic dispensers in fashionable hues, such as rose gold or matte black.

Soft Bath Mats:
A luxurious bath mat is an absolute must in any bathroom.
 In addition to providing a soft, comfortable surface to walk on, rugs can also add a splash of color or design to a room.
To enhance safety in wet environments, look for mats with a non-slip backing.

Fine Art Prints:
1. Bathrooms are often overlooked when it comes to decorating, but they are the perfect place to hang art.
2. Pick fashionable and waterproof patterns, such as botanical or abstract designs.
3. Put them in simple frames to give your walls some character.

Statement Mirrors:
 Bathroom mirrors are a necessity, but that doesn't mean they have to be dull.
 To make a statement in your room, look for mirrors with unusual shapes, such as circular or hexagonal, or those with distinctive frames.
No one desires a disorganized bathroom, yet it can be difficult to find beautiful storage solutions.

Luxe Towels: 
 Enhance your standard bath towels with luxury alternatives.
Look for towels made of high-quality fabrics, such as Turkish cotton, and select a hue that complements the bathroom's design.
Elegant Lighting:

Adequate lighting is a need in any bathroom, but it may also serve as an opportunity to add style.
For a spa-like feel, try putting up an eye-catching light fixture like a chandelier or pendant or adding a table lamp to your vanity.
FAQs:
How do I bring character to my bathroom?
Search for accessories with distinctive designs, vibrant hues, or intriguing textures. Moreover, art posters and statement mirrors are fantastic ways to bring individuality to a room.
What are some fashionable bathroom storage options?
Woven baskets, matte black shelves, and old apothecary jars are all stylish ways to store things in the bathroom.
What kind of bathroom towels should I purchase?
For a nice feel, go for high-quality towels made of Turkish cotton. Pick a hue that complements the décor of your bathroom.
Conclusion:
With these eight trendy items, you can make your bathroom a stylish and useful place to relax. Each item on this list, from chic shower curtains to soft bath mats, will bring personality and appeal to your bathroom. Don't be afraid to combine styles and textures to create a look that matches your individual personality. With a little imagination and careful design, you can change your bathroom into a beautiful, inviting environment that you will enjoy spending time in. Therefore, immediately commence your search for new bathroom accessories.