If you're looking for a small house design, there are many options available that can maximize space while still providing a comfortable and functional living environment. Here are some design ideas to consider: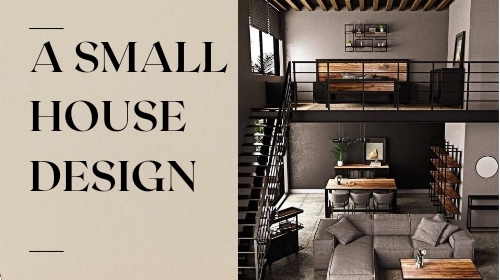 The Open Floor Plan
An open floor plan is an excellent way to make a small house feel larger. You can make the most of every inch of space by removing walls and creating a larger living area. Furthermore, an open floor plan allows more natural light to enter the home.
Loft Area
A loft space can add living space without taking up too much floor space. It can serve as a sleeping area or a home office and is accessible via a ladder or spiral staircase.
Furniture with Multiple Functions
In a small house, using multi-purpose furniture can help save space. A sofa bed, for example, can function as both a couch and a bed, whereas a coffee table with storage can provide additional storage space for books and other items.
Integrated Storage
Built-in storage is an excellent way to make the most of limited space. You can save floor space while still having plenty of room for your belongings by incorporating storage into walls or under stairs.
Minimalist Style
A minimalist design can help make a small house feel larger and less cluttered. You can create a clean and open living space by keeping furniture and decor to a minimum.
Outdoor Living Area
Having an outdoor living space can increase the size of your living space while also providing a relaxing space to enjoy fresh air and nature. This can be accomplished by constructing a patio, deck, or even a small balcony.
Natural Lighting
Natural light can make a small house feel larger and more airy. You can bring in more natural light and create a brighter living environment by incorporating large windows and skylights.
Vertical Room
Using vertical space to maximize storage and living space in a small house can help. You can maximize space by incorporating tall bookcases, shelving units, or hanging storage.
Sliding Doors
Sliding doors can save space while also adding a stylish and modern touch to a small house. They can be used to divide rooms or as a replacement for traditional swinging doors.
Energy Efficient
Energy-efficient design elements, such as double-pane windows and insulation, can help reduce utility bills while also creating a more comfortable living environment.
You can create a small house that is both comfortable and functional by incorporating these design ideas. When designing your small house, keep your lifestyle and needs in mind, and don't be afraid to get creative and think outside the box.