Are you looking for inexpensive ways to give your home decor a more personal touch while still staying within your budget? DIY decoration ideas are all you need to look for! 
Not only are they affordable, but they also give you the opportunity to create one-of-a-kind and personalized pieces that are a perfect reflection of your individuality in terms of both style and character.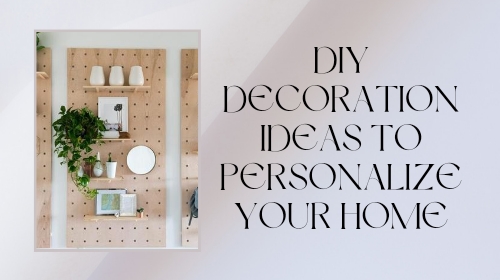 Here are some do-it-yourself decorating ideas that you might find inspiring:
Upcycled Furniture
Instead of purchasing new furniture, consider giving your old pieces a second chance at life by giving them a new coat of paint or giving them a creative makeover using some creative do-it-yourself hacks. For instance, you can repurpose an old ladder into a chic bookshelf, or you can turn a wooden crate into a fashionable end table. Both of these projects are possible.
Painting your own canvas, framing family photos, or creating a gallery wall with a mix of art pieces are just some of the countless ways that you can create beautiful wall art at an affordable price.
Do-It-Yourself Lighting
You Can Easily Create Your Own Lighting Fixtures You can easily create your own lighting fixtures that add both functionality and style to your space if you do it yourself. Repurposing old lamps or making one-of-a-kind pendant lights out of found objects like wine bottles or mason jars are two examples of possible projects.
DIY Storage Solutions
DIY Storage Solutions are a great way to make the most of the space you have available for storage while also contributing a decorative element. Creating a storage ottoman, repurposing old suitcases, or hanging shelves or baskets from the ceiling are some examples of possible solutions.
Creating One-of-a-Kind Decorative Accents
There are a plethora of options available to you when it comes to the creation of one-of-a-kind decorative accents for your home, ranging from pillow covers Create one-of-a-kind pieces that reflect your unique sense of style by making use of different fabrics, paints, and other materials.
When it comes to do-it-yourself decoration ideas, the possibilities are virtually endless. Being creative and allowing your unique personality to shine through is essential to success in this endeavor. You can make your home into a space that in every way exemplifies your one-of-a-kind sense of style and personality with just a little bit of hard work and creative thinking.