The process of designing and planning a home can be both exciting and challenging. Many factors are involved, from selecting the best location to deciding on the layout, style, and finishes. A well-thought-out house design can result in a functional, comfortable, and aesthetically pleasing home that meets your needs and preferences. In this article, we will look at the key steps and considerations in house design planning.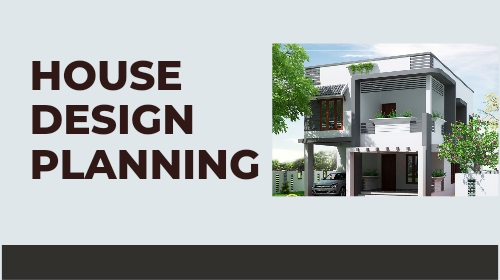 Determine Your Requirements and Preferences
House Design planning – The first step in house design planning is to identify your wants and needs. What kind of house do you want to construct? What are your absolute necessities, such as the number of bedrooms, bathrooms, or living spaces? What aspects of style and design appeal to you? Would you rather have an open floor plan or separate rooms? Take into account your current and future lifestyle, family size, and activities to help you choose the best layout and features for your new home.
Select the Best Location
House Design Planning – The location of your house is crucial to the overall success of your design. Consider the neighborhood, the proximity to schools, shopping, and entertainment, as well as the accessibility to public transportation or major highways. The topography, orientation, and views of the site can all have an impact on the design and layout of your home. Before deciding on a location, make sure to check local zoning regulations, building codes, and permit requirements.
Establish Your Budget
House Design Planning – Setting a budget is an important step in the planning process. The size, quality, and finishes of your home will be determined by your budget. Make sure to account for all costs, such as land, construction, design fees, permits, and contingencies. A 10-20% contingency budget is recommended to cover unexpected expenses.
Collaborate with an Architect or Designer
Working with an architect or designer can assist you in making your vision a reality. A professional can help you with the design, layout, and functionality of your home while keeping your needs, preferences, and budget in mind. They can also assist you with the permitting and construction processes, ensuring that your project complies with all regulations and requirements.
Create the Floor Plan
The floor plan is your home's blueprint, defining the layout, room sizes, and flow of the living spaces. It is critical to create a functional and efficient floor plan that meets your requirements and preferences. Consider the number of bedrooms, bathrooms, and living spaces, as well as the location of the kitchen and the flow between indoor and outdoor areas. An open floor plan can give the impression of space and connectivity, whereas separate rooms can provide privacy and flexibility.
Finally, designing a home is an exciting process that necessitates meticulous planning and attention to detail. There are many factors to consider when designing your dream home, from selecting the right location to determining your budget. You can ensure that your house design planning process goes smoothly and that you end up with a home that perfectly fits your needs and lifestyle by following the tips and advice outlined in this article.
Remember to prioritize functionality and comfort over aesthetics, and to collaborate with a qualified and experienced team of professionals, such as architects, engineers, and builders. You can build a home that you and your family will enjoy for years to come with the right approach and mindset.