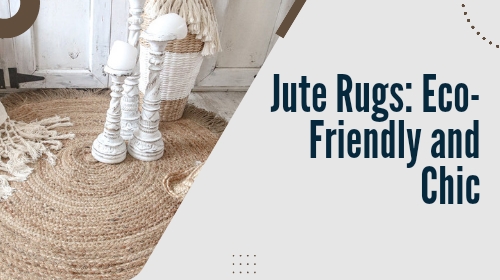 Jute rugs are a popular choice among environmentally conscious homeowners looking to add a touch of natural elegance to their living space. These rugs, made from jute plant fibers, are not only environmentally friendly, but also durable, comfortable, and versatile. 
In this article, we'll go over the benefits of jute rugs, the various styles and designs available, and how to care for them so they last for years. So, whether you prefer natural minimalism or vibrant patterns, keep reading to find out why jute rug are both eco-friendly and fashionable.
3 Jute Rugs Designs in Trend
Authentic Jute Rugs
The most common type of jute rug is natural jute rugs. They are made from the natural fibers of the jute plant, which gives them a lovely, organic appearance. Natural rugs are available in a variety of weaves and textures, ranging from tightly woven to loosely woven to everything in between.
Dyed Jute Rugs
Dyed rugs are an excellent way to add a splash of color to your home. They are available in a variety of colors, ranging from muted earth tones to vibrant hues. Dyed rugs are created by dying the jute plant's fibers before weaving them into a rug.
Rugs with Patterns
Jute rug with patterns are a great way to add visual interest to your space. They are available in a wide range of patterns, from simple stripes to intricate geometric designs. Patterned jute rugs can be a focal point in your home.
Advantages of Jute Rug
Eco-Friendly
Jute rug are among the most environmentally friendly rugs available. Jute is a biodegradable and renewable natural fiber. It is a sustainable crop because it is grown without the use of pesticides or fertilizers. Furthermore, jute requires little water and land to grow, making it an excellent choice for environmentally conscious consumers.
Durable
Jute rug are tough and can withstand a lot of foot traffic. They're ideal for high-traffic areas like living rooms, hallways, and entranceways. Rugs natural fibers are also stain and spill resistant, making them simple to clean and maintain.
Comfortable
Underfoot, jute rug are soft and comfortable. They bring a warm, natural feel to any room in your house. Jute rug are also excellent insulators, keeping your home warm in the winter and cool in the summer.
Versatile
Jute rug are a versatile choice for any home décor because they come in a variety of styles and designs. There is a jute rug to suit every style, from natural jute colors to dyed jute in vibrant hues. Jute rugs are also available in a variety of textures and weaves, allowing you to find the perfect rug for your space
Finally, jute rugs are an excellent choice for those looking to decorate their home in an environmentally conscious and fashionable manner. Artisans of Sajosamaan provide numerous advantages, including durability, comfort, versatility, and, of course, environmental friendliness. There is a jute rug to suit your taste, whether you prefer a simple, minimalist design or a bold, colorful pattern. So, why not buy a jute rug today and add a touch of natural elegance to your home?