Create a Serene Atmosphere with a Blue Rug
Are you trying to find a way to make your home a peaceful retreat? Maybe you should get a blue rug. Blue is the ideal color to use in your home decor because of its reputation for promoting calmness. The advantages of having  rugs in your home, the various blue hues available, and styling ideas for blue rugs will all be covered in this article.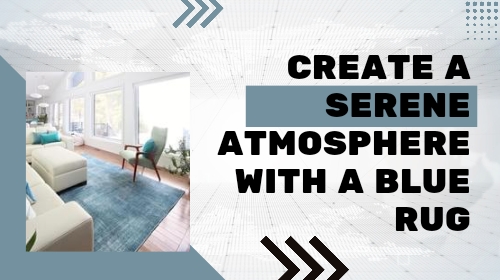 The Advantages of a Blue Rug in Your Home
The use of a in your home has many advantages. The calming color blue can aid in lowering stress and anxiety. Additionally, it is a versatile color that works well in both coastal and modern decor. You can infuse your living space with a sense of serenity and relaxation by incorporating a rug into your decor.
Choosing the Correct Blue Shade
There are numerous hues of blue available when choosing a rug. Lighter blue hues like baby blue and powder blue can evoke a calming, peaceful atmosphere. When you want to create a relaxing atmosphere, these shades look great in living rooms or bedrooms.
Darker blue hues like royal or navy can give off a more refined and elegant vibe. Wherever a more formal atmosphere is desired, such as in dining rooms or home offices, these shades work well.
Teal or turquoise hues can add a splash of color and give your room a bohemian feel. These shades complement eclectic or bohemian design aesthetics well.
Consider the overall color scheme of your room when deciding on the shade of blue for your rug. Consider a lighter shade of blue for your rug if your walls or furniture are already boldly colored. A deeper shade of blue can give your room depth and dimension if it is primarily neutral.
How to Style Your Blue Rug
It's time to style your blue rug in your house once you've made your decision. Depending on your decor preferences and personal style, there are many different ways to style a rug.
Pair your blue rug with white or beige furniture and organic materials like wood or wicker if you're going for a coastal or beachy vibe. To finish the look, add some seashell decorations or beach-themed artwork.
Pair your blue rug with sleek, simple furniture in shades of neutrality like black, white, or grey for a contemporary appearance. To create a sophisticated atmosphere, add some metallic accents, like a lamp in silver or gold.
You can combine your rug with other blue hues or complementary colors like green or purple to bring in more color to your room. Your rug will feel cozier and more welcoming if you layer it with other rugs or blankets.
How to Care for Your Blue Rug
It's crucial to take good care of your rug if you want it to continue looking its best. To get rid of any accumulated dirt or dust, vacuum your rug frequently. Make sure to clean up spills right away to avoid stains if they occur on your rug.
Consider using a professional rug cleaning service for more thorough cleaning. In addition to helping to restore the color and texture of your rug, they can assist in removing any dirt or stains that may have built up over time.
Your living space can feel serene and unwinding by incorporating a rug into your home decor. There is a rug out there that is ideal for your home, and there are so many different shades and designs to choose from. You can create a lovely and peaceful atmosphere in any room of your house by picking the right shade of blue and styling your rug to match your decor style. Don't forget to take good care of your rug so it looks great for years to come.